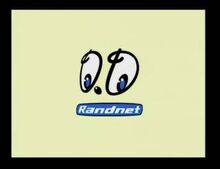 Randnet was the subscription based online service for the 64DD. To use it, the player would have to plug the N64 modem in the cartridge slot.
In April 1999, Nintendo ended their partnership with St.GIGA, who had created the Super Famicom's Satellaview online service in Japan. The company then partnered with Japanese media company Recruit to develop the 64DD's proprietary online service called Randnet (a portmanteau of "Recruit and Nintendo network"). The resulting joint company was announced on June 30, 1999 as RandnetDD Co., Ltd. It was only ever active in Japan, from December 1, 1999 to February 28, 2001
Because the 64DD hardware package was primarily sold with a mandatory subscription to Randnet, the service was fairly popular amongst the limited 64DD user base. Overall, the service didn't garner enough subscribers to justify its continued existence and in October 2000, the service's impending closure was announced. Every 64DD user was given free access Randnet from that point until it's closure. Nintendo stated that Randnet had about 15,000 subscribers at the end of it's life. Randnet was officially shut down on February 28th, 2001 and Nintendo's equity partnership with RandnetDD Co., Ltd. was liquidated from June 30th, 2001 to January 31st, 2002.
Randnet Disk was a piece of software for the 64DD and the main use for Randnet. Using it along with the N64 modem, mouse, and keyboard would let subscribers acess the internet. On the internet, users could e-mail, chat, play games online, and read a Nintendo Newsletter among other activities.
Use of Randnet Within Games
[
edit
|
edit source
]
Mario Artist: Communication Kit allowed users to upload and download content for the other Mario Artist games. They would also be able to print out pictures and make 3D papercraft models.
Japan Pro Golf Tour 64 let users play competitively online and upload high scores.
Community content is available under
CC-BY-SA
unless otherwise noted.